Pig Slapper Tattoo Hammer (for hog identification tattoos)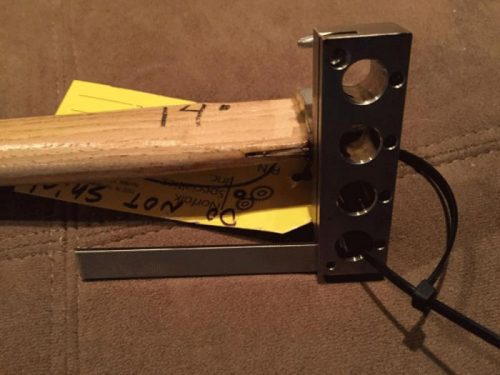 14" Tattoo Hammer with Easy Letter Replacement
Pig Slapper Tattoo Hammer is a tool used to brand hogs and other livestock for identification to transport swine to slaughter.
Tattoo Hammers in animal processing plants (requirement by the USDA) are used to identify and track the hog through the entire meat packing process. "Pig slapping" or hog identification tattooing can be for temporary or permanent pig and hog tattoos. A hog hammer tattoo may involve dies or tattoo ink, and replaceable letters to tag the hog or other livestock. There are many requirements to the pig and hog slapping process which are explained by the USDA (published August 2011). Delrin Letter Blocks are made of lightweight delrin acetal resin for durability to resist fatigue and wear with stainless steel pins.
Our Pig Slapper Tattoo Hammer is known for easy letter replacement and is lightweight with a 14" ash handle. Norfolk Specialties has letters and numbers in stock for your Pig Slapper Tattoo Hammer. Our pig and hog tattoo hammer made with no lead. The Pig Slapper Tattoo hammer from Norfolk Specialties, Inc. is machined from steel and has a durable steel head. Our Delrin letter blocks are guaranteed to do the job right.
If you need a "Pig Slapper" hammer is for tattooing "Market Hogs" contact Norfolk Specialties, Inc. — (402) 371-0714
Product Gallery